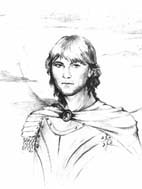 &nbsp
At brinks of the heaven

Silence fills brinks of the heaven
like a tune.
Crumbs of stars are bright and heavy.
Peck them, Moon!
Sounds sleep. Nobody hears
Strings by night.
Darkness rocks ether to here
over lights.
The dawn is near and impending,
next day's breath.
And the World is never ending,

has no Death...

If you found any mistake in the text, please, help me to correct it.